As interest rates rise, Canada's residential construction industry enters a new phase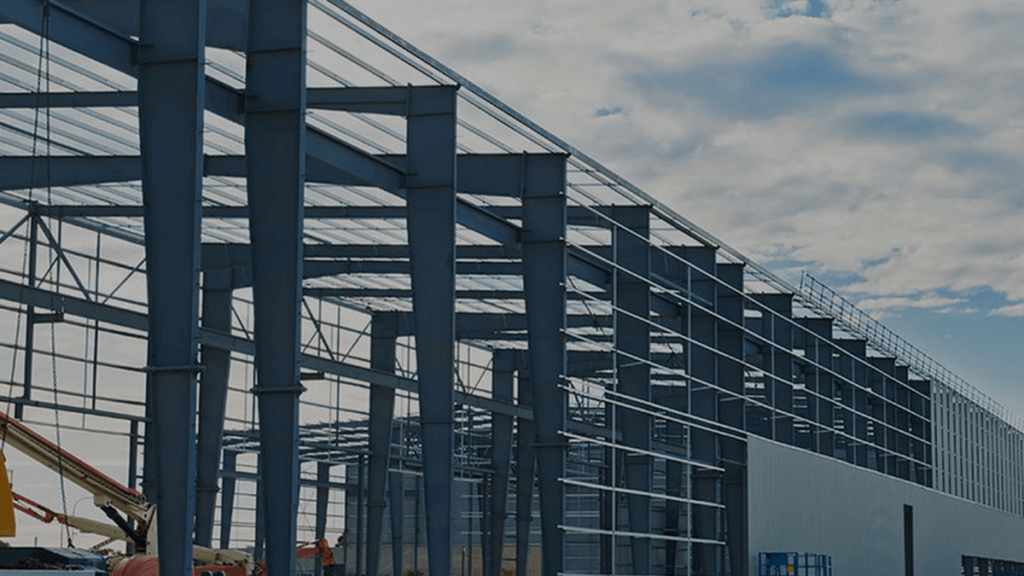 ARTICLE | October 03, 2022
Authored by RSM Canada
In response to rising inflation, the Bank of Canada began a series of aggressive rate hikes this year, bringing its policy rate from an effective lower bound of 0.25% to 3.25%. One of the industries hit hardest by rising interest rates has been construction, and the resulting slowdown now threatens to make Canada's housing shortage
more acute.
But for savvy developers, this does not mean that activity needs to come to a halt. A government-financed program is helping expand the supply and make it more affordable.
Rising rates cool construction
For some time, businesses have been dealing with the dual challenges of rising inflation and the central bank's campaign to raise interest rates.
Rising rates mean that money is no longer easy to come by, as it was at the beginning of the pandemic when the rates of borrowing were below inflation. Now, with rates rising, business borrowing and spending will decline.
The construction industry is particularly sensitive to rising rates because it is highly leveraged, and projects of all types are financed using borrowed capital.
For example, the construction industry lost 20,700 jobs in April and another 3,000 in May, despite the red-hot labour market. Most other industries gained jobs.
Residential construction, while staying well above the pre-pandemic level, has cooled from the last year's high as real estate prices began to fall.
Building permits and housing starts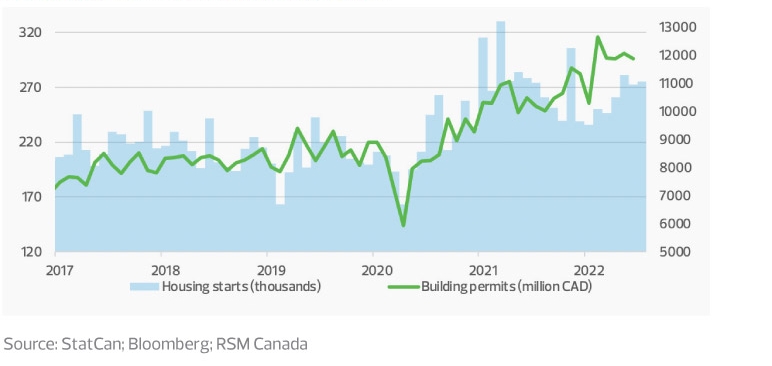 As the Bank of Canada maintains its hawkish tone to tackle inflation, there will be fewer applications for construction projects. In addition, projects that have already been approved might be delayed or cancelled.
Projects are approved at a certain interest rate and a ceiling rate; the latter adds an extra cushion showing the highest rate at which a project can be funded without additional equity.
When lenders' interest rates rise above the ceiling rate, developers are required to contribute additional equity. If they do not, projects must be put on hold.
Since many developers do not have this additional money available, new projects that have not started are often cancelled, and even some projects that are under construction could be halted.
Housing supply
While projects of all types—residential, commercial and industrial—are affected, a decline or slowdown in residential construction has serious implications on the economy as a whole.
Canada has been dealing with a housing shortage for more than a decade because of underbuilding, and it is one reason for rising housing prices. Indeed, housing prices have been increasing disproportionately in relation to income, and Canada has one of the most unaffordable housing markets in relation to income among the G10 countries.
House prices and disposable income, select OECD countries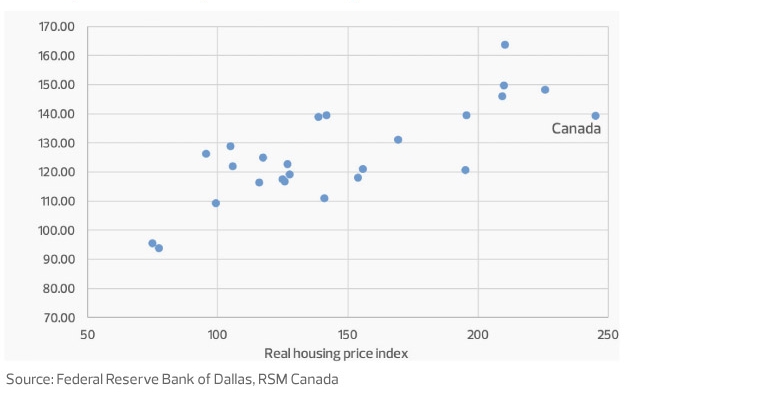 House prices and income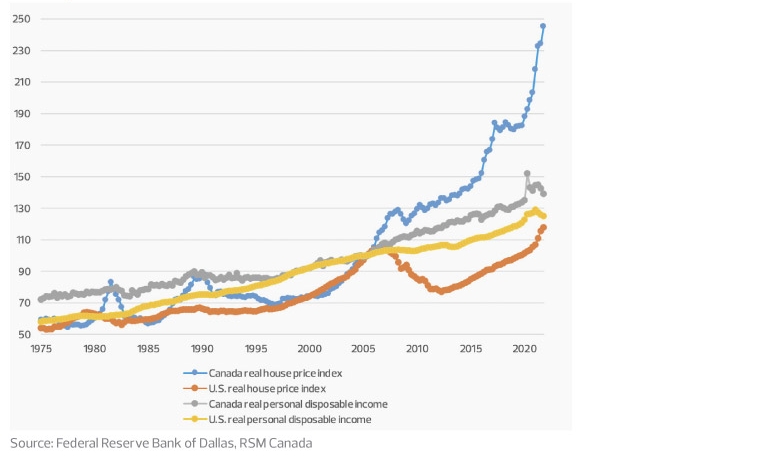 The pandemic, with the Bank of Canada setting the policy rate at the effective lower bound, brought about cheap money and spurred a construction boom that was constrained only by labour and material shortages.
The rising numbers of building permits and housing starts last year promised to add supply to the housing market, somewhat relieving the crucial shortages that have been rampant.
But this is coming to an end. Rising interest rates, combined with an inflationary environment, threaten to put a lid on construction. Given that some approved projects might not proceed as planned, the amount of available housing might be less than the number of building permits and housing starts last year.
This could worsen the housing affordability crisis for Canadians.
Even though higher interest rates could cool the housing market, demand for housing remains high as millennials reach the homebuying age, elderly people stay in their homes for longer and new immigrants settle in.
In addition, even though house prices have declined, rental prices show no sign of slowing, especially because even those people who do not purchase a home still need a place to live. As a result, demand for residential housing, including both rental and owned, will most likely increase.
Opportunities remain
But it is not all doom and gloom. Earlier this year, Canada Mortgage and Housing Corporation (CMHC) launched a new mortgage loan insurance program that allows developers to obtain mortgages with more favourable rates and financial terms.
In exchange, housing projects need to set aside a certain portion of units as affordable housing. In addition, they must abide by more stringent energy efficiency and accessibility requirements than if their mortgage came from a bank.
Applying for a mortgage with CMHC could help developers secure financing that they would not be able to obtain elsewhere under the rapidly rising interest rates.
Second, it could help lower the cost of capital for developers in an inflationary environment.
Third, building housing projects that are energy efficient, accessible and affordable could help developers improve their performance in meeting the environmental, social and governance criteria set out by CMHC.
Will this new program be successful? In New York City, known for its lack of affordable housing, mixed-income programs with part of the mortgage coming from the New York City Housing Development Corporation have achieved moderate success.
Additionally, Canada's federal and provincial governments have targeted affordability in the past. Now there are opportunities to create new housing that is affordable, accessible and energy efficient.
The takeaway
While there might be less housing built overall in the next couple of years, the proportion of affordable housing that is also climate-friendly and accessible could increase as more developers turn to CMHC for financing.
Last year saw an uptick in construction that could add much-needed stock to the supply of housing, but as building and borrowing become expensive, the shortage will continue.
As projects become more challenging, developers need to realize opportunities to secure financing. In addition, sometimes strategies that lower costs and increase project viability end up helping bring the projects to life, creating situations that benefit the government, developers, and buyers and renters.
---
This article was written by Tu Nguyen and originally appeared on Oct 03, 2022 RSM Canada, and is available online at https://rsmcanada.com/insights/industries/construction/as-interest-rates-rise-the-residential-construction-industry-enters-a-new-phase.html.
RSM Canada Alliance provides its members with access to resources of RSM Canada Operations ULC, RSM Canada LLP and certain of their affiliates ("RSM Canada"). RSM Canada Alliance member firms are separate and independent businesses and legal entities that are responsible for their own acts and omissions, and each are separate and independent from RSM Canada. RSM Canada LLP is the Canadian member firm of RSM International, a global network of independent audit, tax and consulting firms. Members of RSM Canada Alliance have access to RSM International resources through RSM Canada but are not member firms of RSM International. Visit rsmcanada.com/aboutus for more information regarding RSM Canada and RSM International. The RSM trademark is used under license by RSM Canada. RSM Canada Alliance products and services are proprietary to RSM Canada.
DJB is a proud member of RSM Canada Alliance, a premier affiliation of independent accounting and consulting firms across North America. RSM Canada Alliance provides our firm with access to resources of RSM, the leading provider of audit, tax and consulting services focused on the middle market. RSM Canada LLP is a licensed CPA firm and the Canadian member of RSM International, a global network of independent audit, tax and consulting firms with more than 43,000 people in over 120 countries.

Our membership in RSM Canada Alliance has elevated our capabilities in the marketplace, helping to differentiate our firm from the competition while allowing us to maintain our independence and entrepreneurial culture. We have access to a valuable peer network of like-sized firms as well as a broad range of tools, expertise, and technical resources.

For more information on how DJB can assist you, please contact us.