Business Succession Series Article 1 of 4 – Where Do I Start?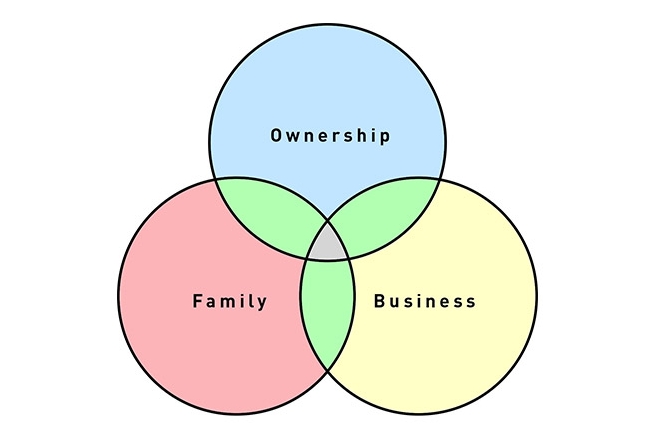 When Family Enterprise Advisors and other Business Transition Consultants talk to the owners of even very small businesses, the question asked of them is usually something like this:
"I know I should be starting to plan the transition of my business but I don't know where to start and I don't know where I'll find the time given my current workload. What do you suggest?"
When I first meet with business owners regarding the transition of their business, I point out that they will someday sell (or wind up) their business – either voluntarily or involuntarily – and they can be ready for change by being prepared. If plans are not already in place, business owners are taking the risk that something may happen (severe illness or sudden death for example) that could result in no value being received from the business for their family. With plans in place, this risk can be mitigated.
The Three-Circle Model of Family Enterprises is now commonly used by Advisors and it is a good place to start.
I encourage the business owner to "nudge" the Family Enterprise towards more formality, something that can be done with relatively little time commitment.
For example:
Family Circle – Prepare a Family Genogram (Family Tree) that identifies which family members are also involved in their Business / Family Enterprise.
Ownership – Prepare a Corporate Ownership Diagram that shows the official name of all business entities (operating and holding companies, Family Trusts, etc.) that make up the Family Enterprise and the details of ownership (types of shares held, number of shares, etc.) This information is often already being maintained by the Accountant or Lawyer of the business but isn't shared with the owner on a regular basis. Start by asking for it and then have it available to review at every year-end and planning meeting.
Business – Prepare a Corporate Organization Chart that shows the reporting structure for the operating business along with the names and titles of all key personnel employed.
The formality introduced by the above helps to start the process of assessing the strengths and weaknesses of Family Enterprises which in turn assists with deciding where maximum benefit can be gained for effort to be expended or prioritizing the issues that should be addressed immediately.
Our Firm works with many family businesses on succession issues. Please let us know if our Business Transition & Family Enterprise Advisory Services team can help you.